Post by Sakuya on Aug 27, 2012 10:25:35 GMT -5
Full Name:
[/i] Lilliana M. Andrews
Age:
[/i] 16 (Though technically she would be 116)
Gender:
[/i] Female
Character Class:
[/i] Time Traveler
Appearance:
[/i]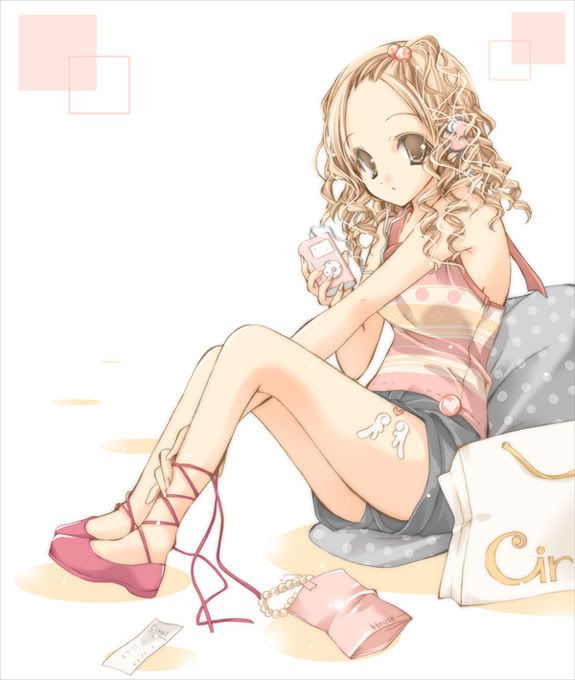 (just missing the freckles, scar, highlights in her hair and the second tattoo)
Lilliana stands at 5'4 and weighs the average weight for a girl her age. Her skin is pale and her large brown eyes stand out against her skin. Her hair is blonde in color though she has put light pink highlights in it and naturally curly and a small part of her hair on the left side is in a little mini ponytail. Lilliana's face is dotted with freckles right across her nose that stand out just like her eyes against her skin, she also as a small scar on her left cheek from a childhood accident. The upper part of both her ears are pierced with silver rings. Lilliana dresses in a tank top that is a medium shade of pink, light pink, and light gold in color on the stripes and dot pattern. She wears a pair of jean short shorts and has a tattoo that is seen right at the bottom of her shorts on her left leg. The tattoo is a small pink heart with angel wings below it, her second tattoo is on her ankle and is a small pink heart. She wears a pair of dark pink ballet flat shoes that has a ribbon of the same color that ties up part of her leg.
Personality:
[/i] Lilliana is a very shy and insecure girl around strangers. She doesn't really like interacting with others and when she does she normally stutters over her words and doesn't really know what to say. She also normally can't stop from blushing. Though she has the tenancy to always underestimate her own abilities. It's not that she's trying to be shy around people, she just is having trouble adjusting to how much the world has changed in the past 100 years. She has an almost childlike curiosity to the things that have changed since she has been sent to the future, finding it odd but interesting how much things have changed. Although she may be shy Lilliana cares deeply about Pokemon, which is why she went through with this task of going to the future.
Lilliana can also be a worrier, about almost everything. She worries about her few friends, all of whom she has been separated from. She always will fear that the worst has happened, even though people tell her not to think the worst she can't help it. She has also been known to panic easily in the face of danger. Makes some wonder why she was chosen to do this, even she wonders it sometimes. Despite her flaws which there are many there is a part of Lilliana, a part that even she doesn't know exists which is brave and confident. A part of her that will never give up, that will always fight and doesn't worry about anything. She just hasn't found it yet. The problem is, there is a chance she might never find it. If she ever does find it though, it would take something big to unlock it, most likely a trauma of some kind, or a big event where she would have to risk proving herself to save others.
But if you want to befriend Lilliana, until she finds the brave part of herself it will take a lot of patience and work to get her to befriend you.
Likes:
[/i]
Pink

Chocolate

Water and Grass types

Dislikes:
[/i]
Stranger

Hunters

Electric Types

History:
[/i] Lilliana is from 100 years in the past in the Zaen region. Back then life was peaceful, there were trainers everywhere and there was peace. Even she was a trainer, though she was still very shy, just not as insecure. She had two Pokemon, a Lilligant and a Vaporeon that she cared for deeply. Until she was challenged to a battle by a Hunter. This man knocked out her Lilligant quickly with his Emolga and once Lilliana sent out her Vaporeon, she was taunted, told she was a terrible trainer and she didn't deserve the Pokemon she had. To make things worse, the hunter then used a strange Pokeball that Lilliana later learned was a Seize Ball to take her Vaporeon from her.
Since that day Lilliana changed, she was just as shy but her insecurity formed, and she kept her Lilligant even closer to her, not wanting to lose her the way she lost her Vaporeon. She also developed her dislike for Electric type Pokemon. Every time she saw one she thought of the Hunter she had met. At this point she was only 15 years old. It was almost a year later, after her 16th birthday she was shockingly called to Nevermore Forest. Upon seeing the Legendary Celebi Lilliana fainted and was revived by another one of the trainers. She wasn't sure what was going to happen, and once she heard about going to the future she almost panicked, she wasn't good for this task. Lilliana saw herself as not good enough for it, but before she could say a word, Celebi had done the task and sent them to the future.
Now in the Future she noticed how much things had changed, the Hunters ruled the region now, and that scared her. If they were sent here to defeat them how could they do that if they were stronger than ever. Lilliana did manage to befriend a few of the other time travelers right before they were sent to the future. But to just make matters worse, they were all eventually separated once they were sent. Now here Lilliana is, in a time filled with strange things she can't believe, in a land ruled by the hunters with only her companion Pokemon at her side. She has no idea what she is going to do next. She has no idea what all this future holds, and she has her doubts on this quest. All she wishes is that there is someone to help her. Unknown to her, there is.
Companion Pokemon:
[/i]
Species:
[/i] Lilligant
Nickname:
[/i] Violet
Level:
[/i] 40
Type:
[/i] Grass
Ability:
[/i] Leaf Guard
Attacks:
[/i] Ingrain, Quiver Dance, Synthesis, Magical Leaf
Personality:
[/i] Violet is very protective of Lilliana. Unlike her companion Violet sees the potential in Lilliana. She will always try to encourage her, trying to no avail at the moment to get Lilliana to see how strong she really is.
-----------------------------------------
From here down is optional
How did you find us?
[/i]
Lucifer asked me to join.
How long have you been roleplaying, and what types?
[/i]
Over a year, mostly Pokemon, have some Sonic the Hedgehog, Harry Potter, and other book series.
Do you have any other characters? If so, list them.
[/i]
No
[/blockquote]